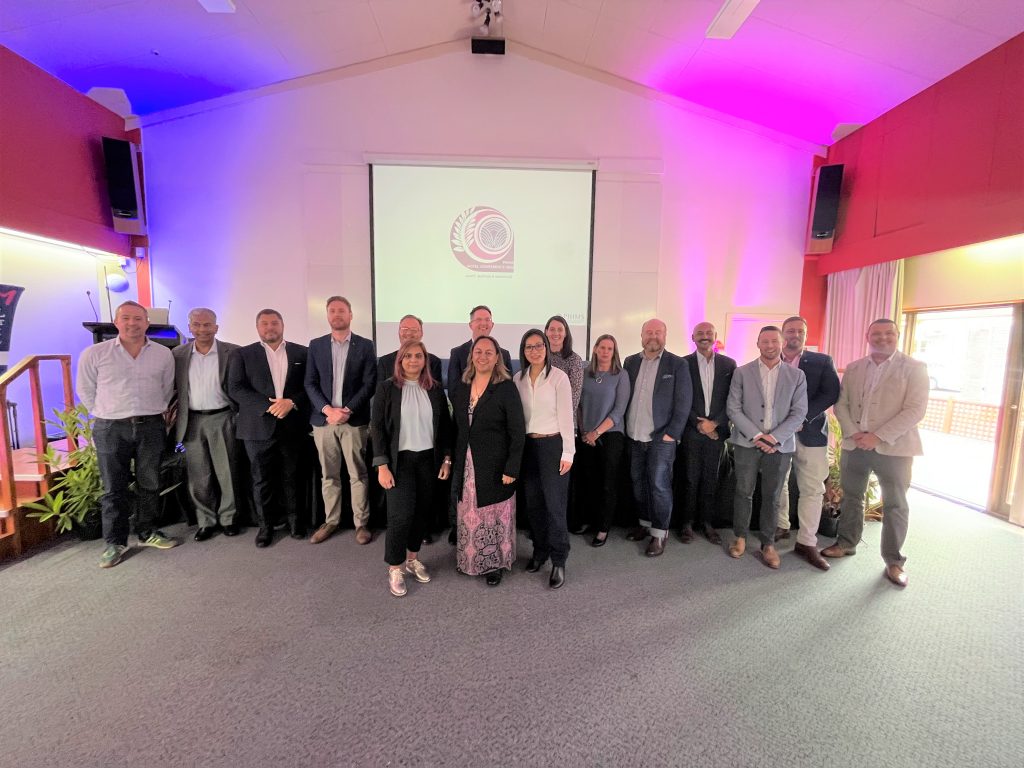 Conference Overview
The PIHMS 2022 Hotel Leaders Conference included panel discussions with 21 hotel industry leaders from across New Zealand and Australia exploring topics such as industry trends, innovation, sustainability, employee wellbeing, risk management, supply chain issues, and employment opportunities. The keynote speaker was Dr David Williamson from AUT, who presented findings from hospitality and tourism industry research funded by the NZ Ministry of Business Innovation and Employment (MBIE).
Panellists Affiliations
Global brands: Accor Hotels, Novotel, Mercure, Mövenpick; IHG Hotels & Resorts; Hyatt, Park Hyatt; Cordis, Cordis Auckland. Key domestic brands: Scenic Hotel Group; Sudima Hotels. Boutique accommodation providers: King and Queen Hotel Suites; Robertson Lodges; U Hotel Group; Craggy Range. Hotel service provider: ahs hospitality. Management consulting organisation: RINGA Management Ltd, contracted to the Te Rere o Kapuni lodge development. Industry and public associations: Taranaki Chamber of Commerce; Hotel Council Aotearoa. Iwi collective organisation: Te Aranga o Taranaki.
Previous Conference
In 2021, PIHMS hosted its first hotel industry leaders conference focusing on the impact, reaction, and recovery from the COVID-19 pandemic. The conference was a student-run event as part of their learning journey and experience as their final year event project in the Bachelor's in Applied Hospitality and Tourism Management qualification at PIHMS. Following the success and very positive feedback from 2021 conference participants and attendees, the PIHMS 2022 Hotel Leaders Conference was planned.
Conference Highlights
In 2022, the keynote speaker, Dr David Williamson from the School of Hospitality and Tourism, Auckland University of Technology, and member of the New Zealand Tourism Research Institute (NZTRI) presented the MBIE funded study on hospitality and tourism employment conditions in New Zealand. The study was the largest and most in-depth survey with 51 quantitative and qualitative questions and gathered just over 900 respondents from all areas of the hospitality and tourism sectors. Dr Williamson provided a 'sneak preview' of results in the areas of employment conditions and career considerations, including employment agreements, wages, breaks, leave, and turnover intentions. The findings will be used to inform the final draft of the government's upcoming Tourism Industry Transformation Plan.
Panellists included managing directors, chief financial officers, owners, general managers, hotel managers, operations managers, human resource managers as well as private and public sector leaders from a wide range of organisations.
The conference framework was developed through significant stakeholder consultation and consisted of 6 panel discussions: (1) Adaptation & Innovation; (2) Public Sector; (3) Learning for Leaders; (4) Operations Management; (5) Sustainability; (6) Human Resource Management.  The adaptation & Innovation panel explored trends, sectors, technology, and marketing. The public sector panel explored initiatives, planning, support, and tourism. The learning from leaders panel explored risk management, branding, trends, and employee management. The operations management panel explored food & beverage, front office, housekeeping, kitchen, and supporting departments. The sustainability panel explored financial sustainability, environmental sustainability, sociocultural sustainability, and supply chain sustainability. The human resource management panel explored staffing, employee performance, employee wellbeing, and employee opportunities.
Conference Impact
The 2022 PIHMS conference informed conference participants from the hotel industry, the hospitality and tourism workforce, hospitality sector owner/operators, career advisors, and future graduates from hotel management or hospitality degrees. PIHMS will use recordings of the panel discussions to enhance student learning in the classroom, and identify key topics and issues raised by the industry leaders to be shared back to stakeholders through a range of research outputs.
The Future
PIHMS plans to host a hotel industry leaders conference annually to provide a platform for hospitality professionals to engage in mutually beneficial discussions in the current dynamic hotel and hospitality sectors.
Thanks to Panellists
PIHMS expresses sincerest gratitude to panellists who have taken time out of their busy schedule to participate in the conference – Arun Chaudhari, CEO, Chamber of Commerce Taranaki; Brett Sweetman, General Manager, Park Hyatt Auckland Viaduct; Craig Binney, Head of People & Culture, Scenic Hotel Group; Daniel Fleming, General Manager & Co-owner, King and Queen Hotel Suites; Dessy Leckie, CFO, Robertson Lodges; Dr David Williamson, Senior Lecturer, Auckland University of Technology; Emere Wano, Iwi Regional Recovery Manager, Te Aranga O Taranaki; Franz Mascarenhas, Managing Director, Cordis; James Doolan, Strategic Director, Hotel Council Aotearoa; Jayesh Bala, General Manager, Novotel New Plymouth; Kristine Kilpatrick, Human Resources & Hospitality Manager, Craggy Range Vineyards Ltd; Marty Lamont, Operations Manager, Novotel Queenstown; Ngawai Hernandez-Walden, Managing Director & Business Management Specialist, RINGA Management Ltd; Prasheel Churi, General Manager, Mercure Queenstown Resort; Roma Patel, Hotel Manager, Sudima Hotels; Sam Swaffield, Director of Operations Support (JAPAC) & Hotel Performance Services Director (AuPAC), IHG Hotels & Resorts; Sean Slattery, Hotel Manager, Mövenpick Auckland Hotel; Suresh Subramaniam, Founder & CEO, U Hotel Group; Tim Reynolds, General Manager, ahs hospitality NZ
Thanks to Sponsors
PIHMS expresses gratitude to our local sponsors and providers – Juno Gin, Palmers Garden Centre, PSL Productions Ltd, Shining Peak Brewing, The Devon Hotel, and The Hour Glass that have made the event possible and a success.
Reflecting on your time at PIHMS, what experiences or lessons had the most significant impact on your career journey? Looking back at my time at PIHMS, I can say that...
The Pacific International Hotel Management School (PIHMS) is proud to announce a significant transformation in our degree offering, marking a new era in our commitment to academic excellence and industry...
We are excited to shine the spotlight on one of our outstanding alumni, Jack Pham, whose journey from PIHMS to the world of hospitality has been nothing short of inspiring....